Event Updates
Upcoming Education Events to feed your brain.
View All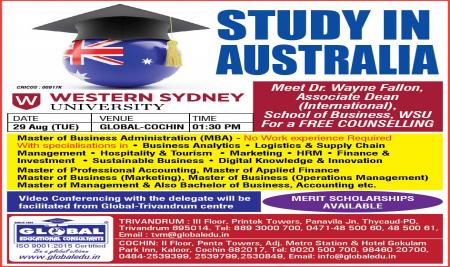 Meet Dr. Wayne Fallon, Associate Dean (International),
School of Business, WSU For a FREE COUNSELLING at Global Education, Cochin on 29th Aug (TUE) 1:30 PM For FREE COUNSELLING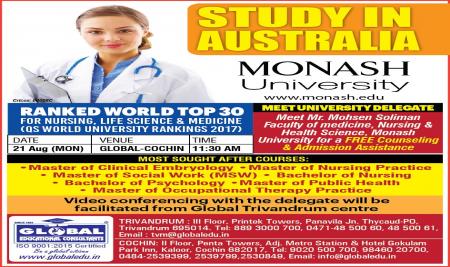 Study in WORLD TOP 30 University for Medicine, Health & Nursing. Meet faculty from MONASH University Australia at Global Education for a FREE ADMISSION Counselling on 21st Aug (MON) 11:30...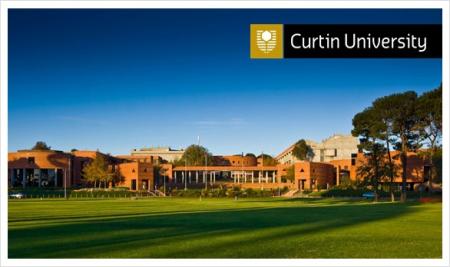 Meet Manager- Faculty of Engineering & Science CURTIN UNIVERSITY Perth- WORLD TOP 25 Modern universities (QS Ranking 2018) @ Global Education Cochin on 31st July 2017 for FREE counseling ...
What People Say
How people said about Global Education Consultant.
One of the highest rated overseas educational consultants in india
150+ 5 STAR REVIEWS ON

I cannot thank Global Educational Consultants enough for all the great directions, guidance and support. I am not sure whether it was my dream come true, for this was never a part of my scheme. When I first visited Global with a reference, I thought all the attention we received was attributable to the person who referred to us but then only during my subsequent visits, I found that it is the typical style of Global that all prospective students are given a lot of attention, care and guidance. Their assistance in helping us to identify the course that matches my attitude and then choosing the right university that courses is commendable. In short, the counselling we received at every step was simply invaluable and it took hardly any time from start date to the date of the visa issue (even though it was a hectic process!!!) for me to make it to my university. I highly recommend this consultancy to all those are pursuing a wonderful career and in need of a professional advise.
Tony johnson
---
I should say that Global is one of the best place to know about the different opportunities that you can have for getting a new direction to your life. After my bachelors I wasn't sure about the opportunities that I can have.Consulting with Global helped me to understand a whole new level of opportunities that I can have and I am so happy with the services that they provided for me, helping me in each and every step like getting the admission in the University to getting my visa ready in a short period of time.Manoj Sir was so nice and so helpful in helping me to find out the right university for me & he helped me to conquer all my doubts and worries for choosing a new Direction in life. So from my experience I can definitely say that Global is one happy place to have a new direction in our life. And i should also mention that all the staffs of Global were so nice that their approach towards me was I like I am their good friend. Thanks Global for everything.
angelo rck
---
The right place to approach if you're dreaming of studying abroad! Thanking Manoj Sir and the whole team! Guided me right from the admission procedures to securing my US visa.. While the "big shots" in town told me I don't stand a chance studying masters abroad! Highly recommended!!
Alen Mathew
---
Amazing consultancy! Helped me throughout and every single doubt or detail I needed. Made the whole application process easy! I highly recommend their service for anyone who wants a good experience with their university application.
Priyanka Mani
---
Its the best option out there for a student who is looking to go abroad for his studies. Guided and helped me through each step of the process. After the first couple of meeting with them they assured me that i will get into the college i most wanted. They even prepped me for the visa interview and told me key important points to clear the interview. manoj sir and the whole team - thank you.
Allan sudeep deve
---

Tobin Mathew
Student
"I had an Excellent experience! Got my visa without much efforts from my side. Global Educational Consultants took care of it all. Very friendly staff who are very much accessible and who were spontaneous in responding to my queries. "

Gins joseph
Student
"It was a wonderful experience from the global consultants, they helped me a lot on my study program in Australia. Global give me the right counseling, helped me to select a great university, and on my visa process. "

Ananthu Shaji
Student
"I would give a 5-star rating to Global Educational Consultants and will encourage all my friends and those who are reading this review to approach Global if you have plans to study aboard."
Subscribe now and receive weekly newsletter with educational materials, new courses, interesting posts, popular books and much more!