Event Updates
Upcoming Education Events to feed your brain.
View All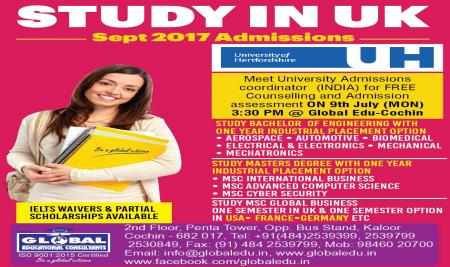 Study in University of Hertfordshire, a highly UK ranked university situated just 20 minutes away from London. Meet University India admission coordinator at Global Education Cochin on 10...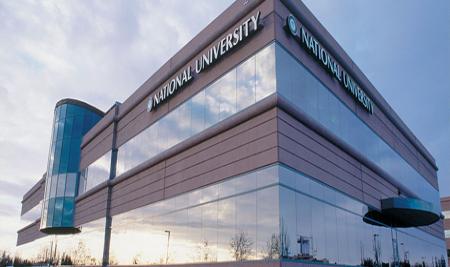 National University California is holding a FREE Online seminar (WEBINAR) on June 08  (THU) IST 7 PM. Intetested applicants can email youe email ID and telephone number to [email protected]..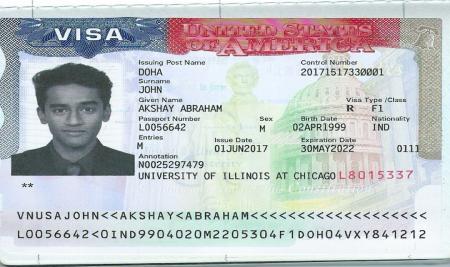 Global Student Akshay John from Trivandrum has secured US$40000 SCHOLARSHIP to pursue his Bachelor of Computer Scince at prestegious University of Illinois-Chicago. "It was pure Global ma...
What People Say
How people said about Global Education Consultant.
I am very glad to share my experience with Global Educational Consultants. Right from the first day of filling the form to apply, getting my IELTS done, getting my Visa procedures done., everyone one was so helpful. They gave me explanations for each and every step and answers for every one of my queries I had. So I recommend everyone who has aspired to study abroad to get in touch with Global Educational Consultants.
SACHIN REJI.GEORGE
---
I feel that Global Consultants was the right place for my Masters education destination. Manoj Sir was really quick and he knew the options that were viable for me. He has a splendid team who are all focused in getting your transition done smoothly.. Overall, I never had any difficulty in securing my admission and visa in-spite of my busy schedule.
arun varghese
---
We are from Mysore and my niece wanted to do her Master of Engineering abroad. We did not know where to study and how to go about it. We had approached many agencies in many places but majority of them sounded business-minded and could not get a convincing answer. Finally with a recommendation from a friend we had travelled all the way to Global Education, Cochin and trust me, that was one of the best decisions we made. Right from counselling on various courses, countries, universities we were given clear answers and the dealings were 100% transparent. After securing us admission in a World ranked university with partial scholarship, their support on Visa application was remarkable. Also they helped us with accommodation booking with a host family and it was a very smooth sailing altogether. I firmly believe we would not have made it happen without Global's support. Hats off to a wonderful team of professionals.
Vipin C
---
I had a very nice experience with Global Educational Consultants. They were very helpful in all stages of our Application. The visa support team had all the relevant information regarding the current visa procedures. Special thanks to Manoj Sir, Oby Mam and Susmy Mam who helped me to achieve my dreams. I strongly recommend global for those who plans to study abroad and Visa consultancy works.Simply they are best.
Ajith Markose
---
I had a really great experience with Global Education consultants.They helped me to find right course and university for my education in Australia.Moreover ,the whole team are very helpful ,dedicated and strive their level best to do everything possible to help us in every which way.
Joseph Mathew
---

Tobin Mathew
Student
"I had an Excellent experience! Got my visa without much efforts from my side. Global Educational Consultants took care of it all. Very friendly staff who are very much accessible and who were spontaneous in responding to my queries. "

Gins joseph
Student
"It was a wonderful experience from the global consultants, they helped me a lot on my study program in Australia. Global give me the right counseling, helped me to select a great university, and on my visa process. "

Ananthu Shaji
Student
"I would give a 5-star rating to Global Educational Consultants and will encourage all my friends and those who are reading this review to approach Global if you have plans to study aboard."
Subscribe now and receive weekly newsletter with educational materials, new courses, interesting posts, popular books and much more!